Essence
Other buskers you may like... Indi and Felix Carter
Multi-instrumentals, vocals.
View Busker Profile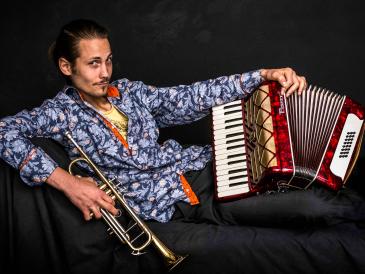 Niq
Fusion-gypsy Niq Reefman is a one-man-musical. Drawing curiosity globally with his eclectic tale-spinning songs he's also the BEST IN THE GALAXY at playing trumpet and accordion simultaneously. You'll hear jazz chords, folk lyrics & pretty melodies.
View Busker Profile Gospel One-Man Band - Alfred
A one-man band which includes a full set of drums, electric guitar, bass guitar and mouth harmonica, all being played in real-time with no loops/backing tracks etc; the artist sings gospel covers and originals.
View Busker Profile